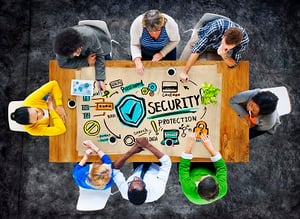 A new NIST (National Institute of Standards and Technology) guidebook says Cybersecurity is everyone's job. While many people may believe that cyber threats are a technology problem looking for a technology solution, the data shows otherwise: people are the weakest link. Whether your organization is large or small, a mindset of security and ongoing user education will help keep your data safe. Sometimes all it takes is ONE user clicking on the wrong link to cause a lot of damage.
A recent article in SecurityIntelligence provides some helpful highlights of the report (this is a quick read), and the full NIST report is worth a review with your team.
We see too many small businesses that assume they're "under the radar" with respect to cyber attacks. What too many people don't realize is that the modern threats are automated and all it takes is a few clicks to cause a lot of damage. A mindset of security is needed to make sure ALL users take the threats seriously and can make informed decisions.
We strongly recommend considering putting a formal training program in place to make sure your employees are educated. The MA Data Security Law, HIPAA, and other industry regulations require employee training as part of their required standards. The training platform is an easy and affordable way to do this, and you can also go with an ad hoc approach, but DO SOMETHING!