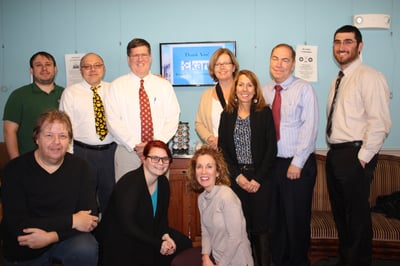 We're proud to support the local community. The Cameron Senior Center in Westford invited us for a tour and reception last week after donating a digital sign to the center.
A digital sign displays dynamic digital content such as photos, videos, streaming media, and other information. Instead of a static sign that needs to be printed and displayed, with a digital sign you can update content anywhere, anytime, and display multiple things on a single display. If you've been to a Dunkin Donuts recently, you've noticed that all the menus on the wall are digital. You've probably also seen digital signs at your local bank. All content is uploaded through the cloud, so you can manage multiple displays from a single console without having to visit each site.
The staff at the Cameron Senior Center are updating event notifications, calendars, and weather information, in addition to photos and news from the community. The monitor is located right above the coffee station to keep everyone up to date. We love technology, and it's exciting to see technology helping the community.
We recently installed a digital sign in our own office for fun! Ask us for a demo if you're interested.