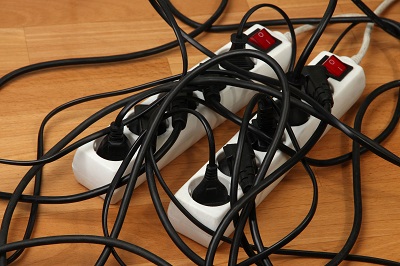 Do your electrical outlets look like this? Time to change! One of the things we look for in a healthy network is proper power management. For maximum uptime, and to protect your digital investments, it's time to clean house and get your power management in order.
As a best practice, we recommend that all sites have ALL networking equipment, and all servers on a quality UPS (Uninterruptible Power Supply) and ideally the UPS will have reporting and alert notifications sent to us. A UPS is an electrical apparatus that provides emergency power when the input power source fails. Generally, the battery power can sustain a very short outage, and will provide enough power to ensure a safe shutdown of a Server.
The advanced UPS units also can do compensation for overvoltage and undervoltage conditions without even needing to go on battery, thus preserving battery for possible real outages which often accompany low voltage conditions.
The more sophisticated units provide monitoring for various events. Some of the power alerts we routinely monitor include:
Compensating or not compensating for High input voltage.
Switching on or off battery.
Distorted input
Takeaways:
Minor power disturbances are happening at all sites and are routine and frequent.
They are caused by routine behind the scenes activity or faults in the electric distribution system (like circuit fault where the utility automatically switches to a different alternate source to maintain power), with a very brief sub second interruption of service.
Sites without adequate power protection are subject to mysterious (and tough to diagnose) side effects, including internet outages. If network equipment frequently requires a power cycle to restore operation it is a clear indication that there have been power disturbances (very common issue with Cable Modems in particular).
Surge strips alone are not adequate to deal with such power events, because they do not deal with power sags, nor overvoltage or undervoltage conditions. Remember surge strips should NEVER be plugged into the OUTPUT of a UPS.
The network UPS can provide such alerts even when the site has no power, if all the required networking components are powered on the output of the UPS. We can isolate the root cause of internet outages at sites without going onsite, because we will have received the alerts before the power in the battery is exhausted. The fix is that we or the client notify the power provider and much time and angst is avoided all around.
Frits Riep and Ann Westerheim