The "tech support" scam is a common threat on the Internet. While working on your computer, a pop up will appear that says your computer has a problem and help is just a phone call or click away. Many of these scams pretend to be from Microsoft. The graphics may look very professional, and the tech jargon sounds convincing enough that may people fall for these scams. After the "repair" is done, then you'll be asked for a credit card to pay. Most people assume they won't fall for a scam, but if you're very busy, and the support price is low enough, it could seem like the fastest and most efficient way to get support and get back to work.
A new twist on this scam is that some bad actors make the scam more convincing by directing users to go to the Microsoft Support page, and then give them a code to get support via LogMeIn. Since you've been directed to a legitimate website, you may think you're safe, but the code you enter will simply direct you to whichever user is connected on the other end - NOT Microsoft, because the code is independent of the site.
LogMeIn Rescue is a remote support tool used by thousands of legitimate businesses, including Microsoft (and Ekaru), but legitimate products are not immune to bad actors with nefarious intent. Some are using trial accounts and appear and disappear on line, so they're hard to catch.
Always be alert on line. Many scams rely on busy users who need to get their support problem resolved as quickly as possible and get back to work. THINK BEFORE YOU CLICK!
If you have any suspicions that something may not be right, DO NOT CONNECT. If you have already connected, then hit the "kill switch" to end the session immediately.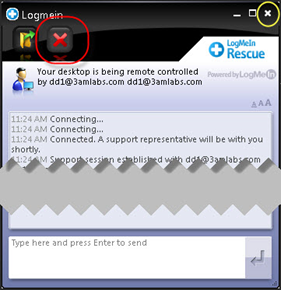 LogMeIn has set up a site to report abuse. If you're approached by a suspicious technician, capture and report – but do NOT enter – the six-digit PIN code they provide. Immediately send this and any other related information: https://secure.logmeinrescue.com/ReportAbuse/Send.

They request that you provide the following details:
In what way you were approached (email, phone call, etc.)

Exact date and time of the scam

The PIN code or link you were instructed to use (if you have it).
In general, always be suspicious if someone offers to help you and you didn't ask for help. Another red flag is if you're asked to either upload or download files, and don't provide any credit card or personal information over the phone.
We recommend on-going security awareness for ALL employees. The security landscape is constantly changing, and there are probably some gaps that you're not aware of if you're not keeping up. Scammers are always improving and updating their techniques, so you and your team need to be aware of the latest threats. Call us for help setting up a security awareness training plan, or sign up for training on-line.
Remember: If a pop up appears on your computer saying you have a problem and help is available, DON'T call or click. Call your own trusted computer support specialist instead!
Reference Link from the LogMeIn Support Site: Avoiding scammer who abuse LogMeIn Rescue accounts.