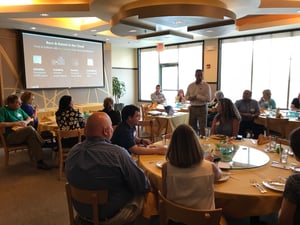 In case you missed it: Last week we hosted a technology lunch and learn event with our partner, Jive Communications. Local business owners enjoyed networking, lunch, and technology.
Verizon is phasing out old copper phone lines, and if you have an old phone system, you may be in need of a change (even if you aren't excited about the latest and greatest features!). We still see SMBs with phone technology that's over 10 years old! If its been that long, its time for a change.
One of our missions at Ekaru is to help SMBs get more from the technology you already have and to learn about the new technology you need to know about!
Some of the highlighted features covered in the presentation include:
Auto Attendants - You can add multiple Auto Attendants for your business at no additional cost.
Call Queues - Instead of needing to do a rapid-fire "please hold" for multiple inbound calls, you can set the calls in a queue with a pre-recorded message (with an escape hatch to voicemail) and then pick up when you're free.
Custom Schedules - Need to send calls to an answering service after hours - just program it in.
Mobile App - You can send and receive phone calls with your office caller ID from your cell phone - bring your office phone anywhere you go!
Hot-Desking - Get your customized phone settings to appear on another office phone. This is great if you have shift workers or mobile workers who work out of different offices.
International Calling - Free calls to over 50 countries.
Reporting and Call Analytics - What are your busiest phone times? How long are your average calls? How many calls go to voicemail. With a modern system, all the data is at your fingertips.
These are just some of the features we discussed. For more information, check out the presentation slides. If you're already using the system, we recommend starting with a simple plan and then building in new features as you learn about them and how they may help your business.
We've been using the Jive system for a few years and you can stop by our office to see the system in use, try a loaner phone, or get a full on-line demo. If you haven't looked at phone systems recently, we highly recommend that you check out Jive!