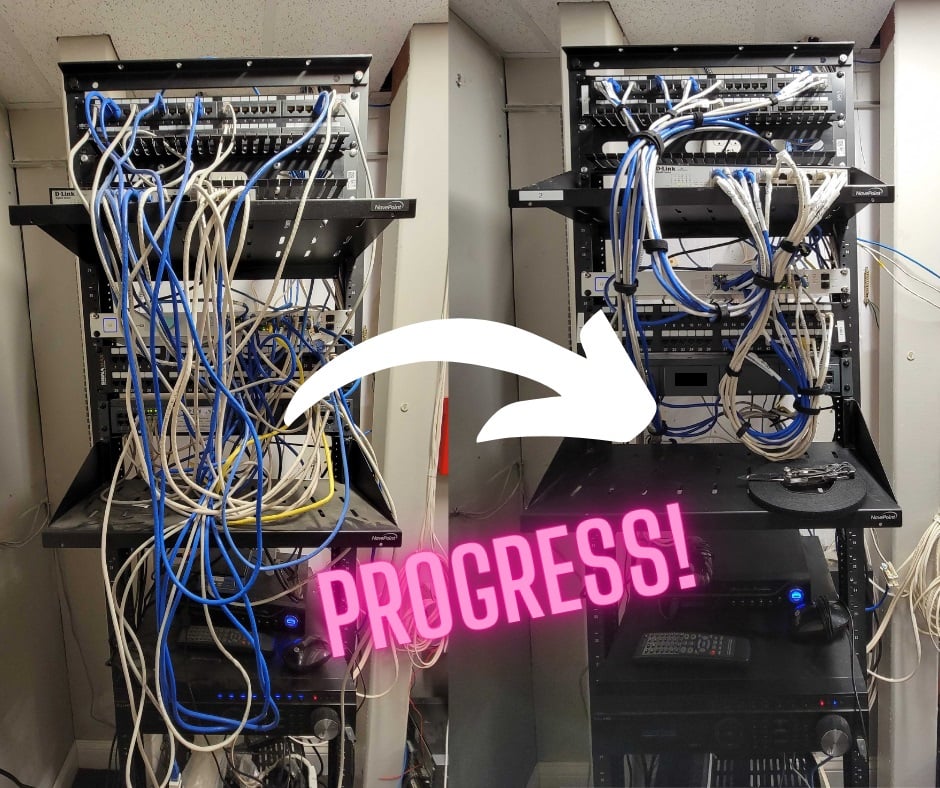 In the world of IT, things are happening all the time and it's easy to fall into reactive mode. Someone needs a password re-set, another person can't print, and someone else is having trouble with their webcam right before an important meeting. It can be hard to keep up, but stepping back and getting more organized will make a big difference. Often, keeping the network closet organized just falls of the list. Since no one really sees it, why does it matter?
What is a network closet?
The network closet is the place where most of the central computer networking equipment is located. It's where your Internet connection enters your office, and your main network equipment is located - basically the brains of your IT infrastructure. It could be a closet, a full room, or just a corner of your office for a smaller business. Your firewall, switches, backup power supplies, your alarm system, and maybe an on-premises server or phone system would be located there. Over time, equipment gets added, cables get added, and the place becomes a mess!
Top 12 Reasons to Clean Your Network Closet
Yeah, you probably didn't wake up this morning all excited about getting your networking closet cleaned up, but there are so many benefits to getting it in shape!
Speed up support! Working with a confused mess slows down productivity. In an urgent support situation, chasing cables through a tangled mess will delay critical response time.
Clear out old equipment. When working with a new local business, we often find disconnected old networking gear just sitting around, or sometimes equipment is still plugged in and looks like its in use. If it's no longer in use, get rid of it and remember to properly recycle!
Identify and replace old equipment. You may have a fast network that's bottlenecked by an old, slow switch. Clear things out to identify the things that need to be proactively replaced.
Promote attention to detail. A big mess promotes messy thinking. IT is all about details. One character wrong in a password makes a difference. Be consistent in all areas.
Save Money - Chasing repetitive problems, paying a networking guru to untangle a cable - these aren't great uses of precious budget resources.
Save Time - Stop wasting time chasing a nest of cables, when you could be using that time to work on proactive technology projects that will help you grow your business. Digital enablement is where it's at!
Reveal improperly connected cables - A loose network connecting that can cause a crazy intermittent computer networking problem is very tough to spot in the middle of a giant mess.
Check things like UPS batteries - It becomes a lot easier to be proactive and keep things like battery backups up to date when you can see everything. This could mean the difference between protected and fried equipment in a power outage.
Extend the life of your equipment - Without good airflow, your equipment can overheat, reducing its overall life.
Promote more proactive "roadmap" thinking - Jumping from one crisis to the next is an exhausting way to exist. With a neat view of what you have, it's easier to create plans for improvement.
Improve safety - Yeah, physical safety is a concern. A tangled mess of wires creates an easy tripping hazard.
Get rid of the dust - Ever looked inside old computer equipment? They get loaded with dust and they can overheat. If the room is dusty, that can get sucked right into your expensive equipment.
Keeping a neat network closet isn't about aesthetics. It's a part of your office visitors won't see, but makes a big difference in the overall health of your technology. Looking for a local IT team? Give us a call!