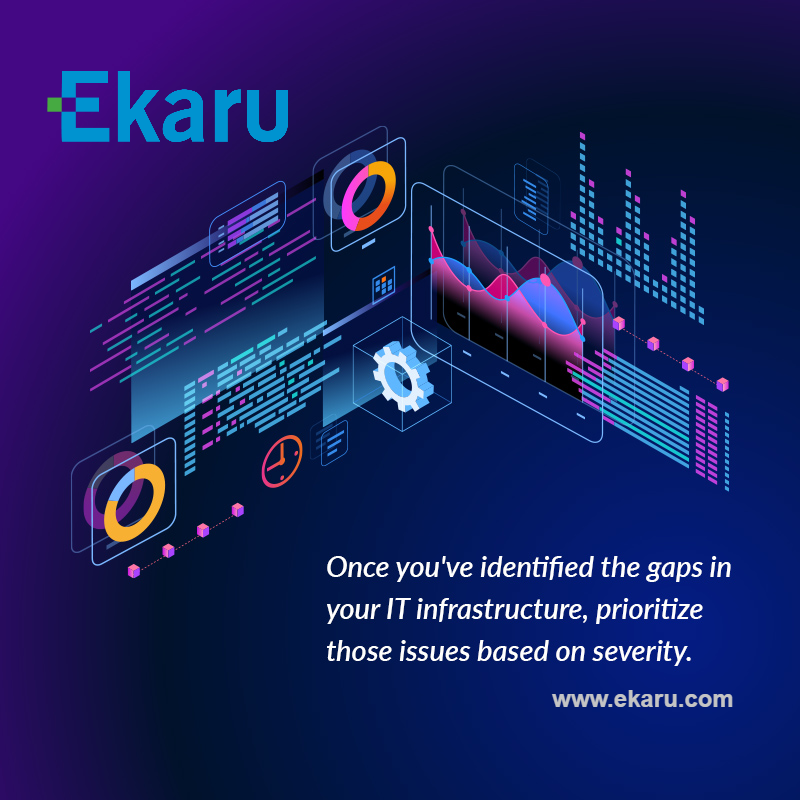 Technology fuels local businesses these days, helping them achieve their goals and vision. At the same time, local businesses are also at increased risk for growing cyber threats worldwide – ALL businesses are impacted, not just the big ones that make national news. One of the important foundations of keeping your technology safe is to conduct a security risk assessment each year (at least!).
A security risk assessment can assist you in better understanding and identifying gaps in your organization's security, compliance, and backup situation. This may seem overwhelming at first, but you don't need to be an IT expert to get started. A Technology Service Provider like Ekaru can help, but you can also simply start with some simple questions: What data do you keep on your network? Where is it stored? How is it protected? How could you restore the data if you lost it?
Your Technology Risk Assessment Report is a Living Document
Knowing what your risks are is of course an important first step, but don't stop there! Identify the most critical items on your list and get started with a plan to address your technology gaps. Keep it simple, and focus on one area of improvement at a time. The time you spent on the technology risk assessment won't have any impact if you don't take action to address gaps.
To fix the most critical gaps right away
You may discover a lot of weaknesses after an audit, prompting the question, "Do all of these need to be fixed at once?"
To make an improvement on a major highway, the construction crew wouldn't close every lane at the same time. Instead, the most damaged areas are prioritized and addressed first. The same is true for vulnerabilities, and it is always better to tackle the most critical one first.

Bridging all the gaps at the same time is rarely practical, both financially and in terms of time and effort. Furthermore, if you prioritize a lower-priority vulnerability first you're not spending your time and money effectively as you'll have almost as much risk exposure when you're done a when you started.



To promote better budgetary choices
Well-planned budgets can serve as a tool to assist you in meeting organizational objectives. Randomly allocating funds to fix gaps will neither help defend against threats nor be a smart budgetary decision. Instead, prioritize gaps and allocate financial resources based on vulnerability severity.


To improve control over managing change
Timely upgrades and associated digital transformation are crucial for a business to stay competitive in constantly evolving business landscapes. Even so, it is critical to carefully manage and plan upgrades. Otherwise, the changes could actually hold back your growth due to confusion and chaos. Remember, not all people on your team can adopt new technology or technology changes at the same pace. Get a better understanding of upgrades and transformation by prioritizing gaps and systematically addressing them based on their severity. Which investments give you the BIGGEST impact for improving security? – those are the ones to start with.


To avoid overwhelming key stakeholders
Trying to tackle all the gaps at once can overwhelm your employees, in turn lowering their productivity and damaging customer relationships. This is where mistakes can happen. If your customers and employees are dissatisfied, this will hurt your business. Be sure to build a clear communication plan to let employees know WHY you're making changes. When they understand that the changes will help security, they'll be more willing to be adaptable.
Need Help With Your Technology Risk Assessment?
Not sure how to get started? Ekaru can help you prioritize technology gaps in order to optimize IT platforms and help you get the most out of your technology investment, all while maximizing uptime and productivity.

Contact us to learn how we can help your organization successfully prioritize technology gaps to achieve targeted goals in a sustainable manner. We host many technology training events over the year that are open to the local community. We also provide an affordable Cybersecurity Training Platform which includes a DIY Security Risk Assessment module. Set up a call with us, or join one of our events to learn more.

In addition, you can download our infographic "Four Steps to Prioritizing Technology Gaps to Bridge" by clicking here.