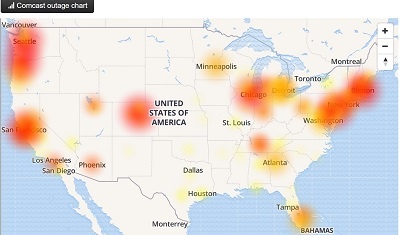 Yesterday afternoon users across the country lost Internet access for about two hours. Some users had intermittent outages and slow downs, and some lost connectivity altogether. All our clients with Comcast Internet were affected and we were on the phone non-stop talking to businesses who were disrupted by the outage. The map above from downdetector.com shows the impact was nationwide.
The disruption lasted a little under two hours, but for businesses that rely heavily on the Internet for email and other mission critical business applications, that was a LONG two hours. The outage started around 1pm and was mostly resolved a little after 3pm.
What caused the problem? A misconfiguration at Level 3, an internet backbone company - and enterprise Internet Service Provider (ISP) - that underpins other big networks. In our area, the affected users were all on the Comcast network, but the routing issue at Level 3 created a ripple effect, causing problems for companies like Spectrum, Verizon, Cox, and RCN, in addition to Comcast across the country.
Internet outages like this have occurred occasionally and consistently throughout the decades, but no system is fault proof. To learn more about the details, wired.com has an excellent summary of more of the technical details.
Monday's outage shows how precarious connectivity is in our highly connected world. When the outage first occurs, getting accurate information is challenging, and its important to know if the problem is inside or outside of your network.
What can you do? A secondary Internet connection can help in most cases. Advanced business class firewalls can support two connections, and fail over as needed. Also, you can use your phone for email and web access through your wireless carrier. An outage like this is a good reminder to put a solid disaster recovery plan in place.