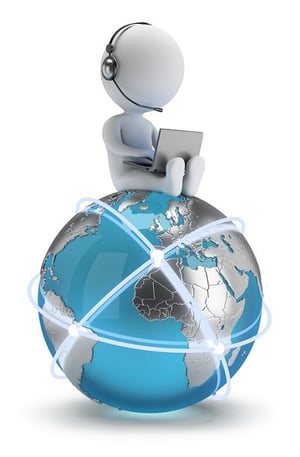 A few clients have asked us about recent notifications received from Network Solutions (and others): "Action Required: Notice Regarding Your Domain Name(s)". In this day and age, we recommend that all users stay alert when opening email, and we welcome questions about the legitimacy of received mail - better safe than sorry!
This notification states as follows:
"This notification is being sent to you as a contractual requirement of the Internet Corporation for Assigned Names and Numbers (ICANN) WHOIS policy. When you registered your domain with us, you agreed to keep your contact information in Account Manager current, and the WHOIS policy mandates that we ask you to verify and/or update this information periodically. Further, ICANN requires us to remind you that providing inaccurate or dated contact information may be grounds for domain name cancellation."
In this case the message IS legitimate, and we always recommend as an extra precaution that you go straight to the website in question (in this case, the company you registered your domain name with, typically Network Solutions), rather than clicking through the link in the website. Yes, we just said the email was "real", but as a "best practice", don't follow links in emails when you don't have to.
You don't have to reply to the email, it's just a reminder to check that the current information is still valid, and to update it as necessary.
ICANN (the Internet Corporation for Assigned Names and Numbers) is a non-profit organization committed to maintaining a number of databases associated with domain names. ICANN is committed to maintaining the WHOIS directory, which is a directory of contacts associated with all domain names - much like a telephone book. In order for the information to be useful, it must be up to date, and anyone who registers a domain name must agree to keep the information up to date. Domain name registrants, businesses, individuals, consumers, and law enforcement are all stakeholders in this directory.
As part of your contractual agreements when you registered your domain name, you agreed to keep the contact information accurate and current. If you use a private registration, you must keep the contact information current at your registrar. Note that all your renewal notices, etc, will be sent to the current contact on file, so its also in YOUR interest to keep the information current. Even if you have a credit card on file for automatic renewal, if the card expires or gets replaced, without out accurate contact information you won't get the notification and you could lose your domain name.
To look up your own information, go to the Network Solutions WHOIS lookup tool. The Registrant organization should be your company name (not an employee or webmaster! - this is VERY important! Does the business own the domain name, or does the employee or webmaster who set it up own it? Make sure this is correct!. Also check that the registrant, administrative, and technical contacts are all current.
Check the WHOIS Primer for more information on the role of ICANN and the WHOIS directory.