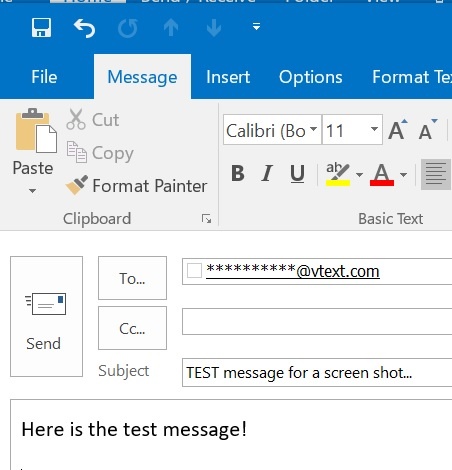 Studies show that text messages get read in minutes, as compared to email messages which may get buried, stuck in spam filters, or just missed. It's easy to send text messages from your computer. You'll need the recipients phone number and cell phone carrier (Verizon, AT&T, etc). Also, make sure you have permission - fees may apply, and your text could also be perceived as spam if its unwanted.
Type the recipients phone number with the sms gateway (vtext.com for Verizon): PhoneNumber@vtext.com. The gateways for the major carriers are:
T-Mobile: phonenumber@tmomail.net
Sprint: phonenumber@messaging.sprintpcs.com
Nextel: phonenumber@messaging.nextel.com
AT&T: phonenumber@txt.att.net
Type your message, and then you're ready to send. Tip: If you have a lengthy email signature, don't use it for sending the text. Delete it or send with no "signature".
Here is what the message will look like on the recipients phone:

If you want to send out group texts, or start using text messages as promotions in your business, then we recommend using a platform designed for this, but if you just need to send an occasional text from your computer, then the email method is simple and quick!