The Department of Homeland Security has issued an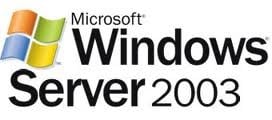 alert for Windows Server 2003 (TA14-310A). Microsoft is ending support for the Windows 2003 Operating System on July 14, 2015. After this time you will no longer receive security patch updates to protect against viruses, malware and other security threats. There will also no longer be any software updates or technical support available from Microsoft after this time.
After July 14, 2015 systems running Server 2003 will be at risk for many cyber-security threats. In addition, your business will be out of compliance for the MA Data Security Law, HIPAA, and other industry security compliance protocols. Because of this, we're asking all clients to start planning NOW to prepare for the migration to a new server.
All products have a life-cycle and this is part of the standard Microsoft product life cycle management. Last Spring, Windows XP was retired and now Windows Server 2003 is the next major operating system on the list. As of July of this year, there were an estimated 12 million servers running Windows Server 2003 worldwide, so there will be a lot of work to bring systems up to date. In general, if server hardware more than five years old, we recommend refreshing the hardware.