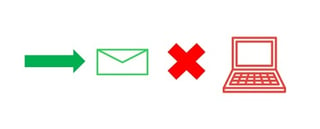 A robust spam filter is an essential part of any business cybersecurity plan. Almost 90% of all mail is spam, and a lot of spam contains viruses, such as the recent WannaCry Ransomware attack. No spam filter is perfect, and in some cases, mail you don't want gets through (false negatives), and mail you do want, gets blocked (false positives).
As a general rule, business class spam filters will provide a daily (or more frequent) quarantine report so that you can check for any missing emails. At that time, you have the option to "release" the message to your inbox, and also "allow" the sender to get through the next time.
In a typical month, the spam filters we apply for customers stop over 1,000,000 messages, many of which are identified viruses. Email security screening is essential.
Recently, we've seen a major problem in that the mail processing from a widely used email security vendor resulted in large groups of mail wrongly blocked as spam on a global list. This is the tech equivalent of falsely ending up on a "no fly list".
The reason why this might happen is because your security is working, albeit not perfectly. All processing is done with automated algorithms by machines (billions of emails around the world), so there is no fast way to clear this up. The false rating is reported, and then a manual process is done by the security platform to petition getting off the list held by the reporting authority. This is an increasing problem with mail delivery, and one that unfortunately is highly disruptive to the users who follow the rules, because mail you want and NEED doesn't get to you.
We strongly advise against removing ANY security layers, even if at times they get in the way. We are closely watching a recurring intermittent problem with one platform. As of this moment, all customer email is flowing normally.