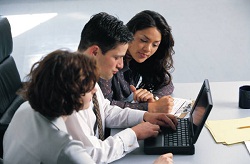 One of the questions we're hearing more and more from our small business clients is how to get control over out-of-control web usage in the office. So much business is conducted on-line that employees need to be connected to the Internet, but in some cases, things can get out of control when some employees spend too much work time on personal web usage such as shopping, Facebook, or going to sites they're not supposed to. If web usage can't be controlled through other management techniques, or if your business has compliance requirements, it's time to think about content filtering for your site.
In some cases the concern is illegal, inappropriate, or harmful web content, and in other cases it's a matter of employee performance, and limiting personal distractions. Another big problem is that if too many users are accessing music or video sites, your network can slow down to a crawl. If your business faces some or all of these problems, content filtering is the solution.
How does it work? With content filtering, web traffic can be managed by giving access to, or denying access to particular sites or categories of sites, with individual or group controls, and time of day control. We typically recommend SonicWall solutions, but the general way these solutions work is that a comprehensive database of millions of web sites is accessed to define usage policies. Examples of categories you can block include: pornography, drugs, criminal and illegal skills, gambling, hate sites, etc.. You can also block other specific sites that are productivity distractions. When users try to access web sites, their access will be determined by the rules set up in the router. This is a simple way to centrally manage web site usage in your business.
Typically some adjustments are required to make things run smoothly (we see a lot of cases where access to necessary sites are inadvertently blocked at first), but in general, implementing a technology solution makes things clear for employees, and centralized technology makes it easy to manage. We strongly recommend carefully thinking through your company policy ahead of time, so the technology fits your business environment.