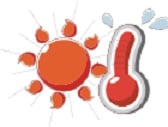 You may want to think twice before you leave your valuable electronics in your car on a hot day. If you take your portable devices in the car with you, keep in mind that your car will get MUCH hotter than the outside temperature when you park it on a hot sunny day. iPhones and iPADs have operating temperature ranges of 32-95 degrees F, and a safe storage range of only up to 113 degrees F. Blackberry's and hard drives generally have operating ranges up to 122 degrees F, and digital camera specs typically call for storage below 120 degrees F.
On a hot day (80 degrees F), your inside car temperature can go up to 123 - 140 degrees F ! Your dashboard and seats can rise up to around 180 degrees to 200 degrees F. Your car will heat up rapidly in the sun as this online illustration shows, so it's not a good idea to leave your electronics in the car for extended times. I found an interesting experiment on-line where the author measured temperature inside coolers (without the ice, as ice would lead to damaging condensation and humidity!) so that may be a way to store expensive and sensitive equipment if you really need to.
Check the safe storage temperatures for your equipment, and let your electronics cool down before operating them. Of course, keep electronics out of site to deter theft.