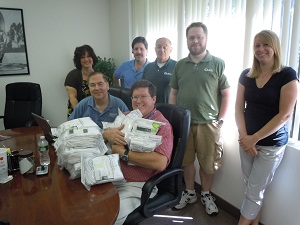 Thanks to all our clients who returned survey cards this Spring. In a tradition we started last year, we're donating socks to Boston Healthcare for the Homeless Program (www.bhchp.org) for all the cards we received. This year, we'll be sending 112 pairs of socks.
Why socks? Access to shoes and socks is often limited for the homeless men and women living in shelters and on the streets. Rain-soaked feet, ill-fitting shoes, constant standing and diseases like diabetes take their toll on the feet of homeless people. Every day, BHCHP's nurses and physicians treat a huge range of foot ailments - from trench foot to skin infections, from frostbite to nail diseases. The best way to prevent such conditions is to keep feet clean and dry – very difficult if you spend your days outside. Clean, white socks are a staple of homeless health care and make a real difference in the lives of our patients and the quality of care that we can provide. (From www.bhchp.org).
Thanks to our clients who took the time to complete the survey cards and provide feedback. It's important for us to hear what's important to you. We love to hear from you when things are going well, and we need to hear from you when we can improve. For more about what our clients have to say about Ekaru, visit our web site: http://www.ekaru.com/clients/.
P.S. If you're a Red Sox fan, there will be drive at the July 9 and July 10 games at Fenway vs the Orioles: http://www.bhchp.org.