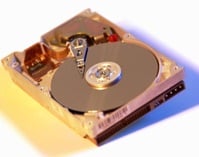 Unless you're already using one of the new solid state hard drives, all of your critical business data is spinning around at 5400rpm or faster on a magnetic disk inside your computer. Think about it - it's a miracle any hard drive can actually work, and all your data is in a perilous situation! One of the most common system failures in a computer is a hard drive failure, but it doesn't have to be a disaster for you if you plan in advance.
Here are three things to do before your hard drive crashes:
Check that you're backing up EVERYTHING you need to backup. A common "gotcha" is using a specialized program that writes files to another location other than "My Documents". Make sure your QuickBook files and any other critical business files are included in your backup. One of the great things about Outlook 2010 is that finally your e-mail file is stored with "My Documents", so you won't have to go looking for it in hidden files.
Make sure you have a list of all the software on your system and corresponding license keys. Keep any disks you may have in a safe place too, including all the disks that came with your computer.
If you're using an online backup, make sure you know the password! Your backup may run automatically every day, but you also need to make sure you can retrieve files from the web if your system completely dies. "Set it and forget it" is great for making sure your backup runs all the time, but just be sure NOT to forget the password!
With a little advance preparation, you can turn a complete catastrophe (lost data, expensive software replacement, lots of down time), into a minor inconvenience of buying a new hard drive for under $100.