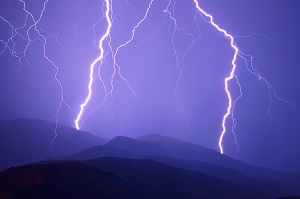 Is my UPS a Generator? This might sound like a crazy question, and we're not talking about the delivery service with the brown trucks, we're talking about an Uninterruptible Power Supply (UPS). With last weekend's severe thunder storms in the area (and winter on the way), it's a good time to think about Power Management.
As a general rule, all computers, servers, and network equipment should be protected with a UPS. In some cases, you may need a big battery to keep a system on for short outages, or just enough to enable a safe shutdown, and protect from spikes/variations in power.
It's important to know that a UPS isn't a generator - it doesn't keep your power running for extended periods of time such as when the power is out for hours or days. The UPS will keep your system running for typically for a few minutes (depends on the battery size), and if the power isn't restored, the software will trigger a safe shutdown of your computer or server. The UPS also protects you against power surges and spikes, voltage sags, and frequency differences (when the power is not at 60Hertz). Features to consider when selecting a UPS is the size of the battery, and software capabilities to enable a safe shut down. Some units also provide the ability to power cycle equipment over a network. Longer run times will greatly increase cost (bigger battery).
As a quick check of your technology, servers, computers, or network gear should be never be plugged directly into the wall. In addition, any printers or other electronics should, at a minimum, be protected with a surge protector power strip. Note that power strips should not be connected to a UPS, they should only be plugged into the wall.
Should my monitor be connected to the UPS or just a surge protector?, If you're just interested in safe shutdown, your monitor doesn't need to be connected to the UPS, but if you intend to run for a period of time, then your monitor should be connected. Long power outages are rare, but you may also consider a generator for your business.
And always remember to save your files frequently and close them when you're done working, and make sure you have a robust backup.