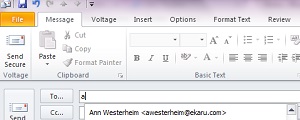 Outlook has a time saving "autocomplete" feature that's a big help most of the time, but can sometimes cause issues. When you compose a new email message in Outlook, as you start to type in the first few letters of the recipient's email address, you'll see that Outlook will have suggestions for you based on who you have emailed before. This is a great time saver, and over time your list will grow. An important thing to know, is that it's not actually your address book, it's a cached list of anyone you have emailed in the past.
The downside is that sometimes the list will contain an outdated or invalid address. If you ever email someone new and have a typo in the address, it will be saved and clutter your list for next time, which can cause you to make the same mistake over and over again.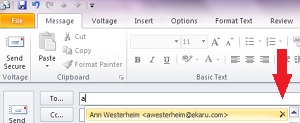 To get rid of the bad address, scroll down the list, highlight it, and hit delete.
The file that stores all these addresses is called a "Nickname" file and has an extension of .nk2. If you get a new computer, and copy your mail and address book, your nickname file will initially be blank. Many users call us and report that their address book is missing. It's actually the .nk2 file, which can be migrated to the new system, but you may also choose to rebuild it fresh to decrease your "clutter".