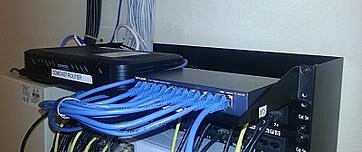 Does your wiring closet look like a neatly organized space or a tangled web of wires and black boxes? Your wiring closet is where your Internet and phone connections enter your office, and this is the heart of your network infrastructure. How the area looks isn't about cosmetics, but rather, critical for network up time.
Here's a photo of a network we recently worked on for a small office. The changes we made were relatively minor, but have a tremendous impact on the ability to rapidly troubleshoot and remediate network issues.
Here are some of the things we recommend:
Router is clearly labeled
Switch is clearly labeled
Network gear is placed on shelving or a rack so nothing is stacked on top of anything.
Color coded wires of an appropriate length are used to connect the switch and patch panel
All ports are labeled on the patch panel so we know what wire goes to what office (with a corresponding number on the network jack)
Wires are wrapped and bundled so connections are easy to visualize
Over time, equipment gets swapped out, Internet providers are changed, and office staff size changes. It's natural that over time, the wiring closet gets a bit chaotic (just like your clothes closet at home). In addition, workers may start storing other equipment in the room. As a "best practice", we recommend at least a yearly clean up to keep things in order.
When a problem occurs, the time savings to quickly diagnose and remediate an issue is critical. In many cases, we can recommend quick self-help over the phone to power cycle a router or switch that can often mean your network will be back up in minutes. When things are organized and labeled, the guess work is removed.
Keep the area neat and organized, and swap out old equipment. If you spot any network gear that's five years old, its time to replace it BEFORE it fails.