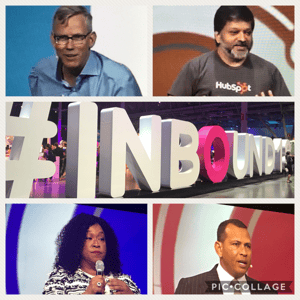 Nancy recently attended Hubspot Inbound 2018 with 24,000 marketing pros from around the country and around the world (plus 400,000 followers!) "INBOUND is a community of people who are passionate about marketing, selling, and delighting customers in an inbound way. Our annual event and year-round media platform inspire and educate hundreds of thousands of people so that they—and their businesses—can grow better."
Getting out to a conference is a great way to learn and re-charge. At Ekaru we're always looking for ways to learn and grow. Here are some of Nancy's thoughts and experiences:
I am excited to share with you what I learned at Hubspot's annual conference –Inbound18. Brian Halligan, the co-founder of Hubspot talked about how to fuel your company's growth. He believes the old Marketing Funnel that we have been living by in the sales and marketing world has a crack in it. So he created the Flywheel. His inspiration came from Jeff Bezos who created the circular model and it has helped his growth at Amazon. Customers are input into our business not output like in the Marketing Funnel. Modern business needs to embrace this new model, in order to grow in the near future. Our customers are on the flywheel. We need to apply force to the flywheel so we can get the biggest return on our investment. This happens in the engage stage with sales reps. We then shift to the marketer to attract as many people in as we can. The loudest channel in the flywheel is to delight. Put all your force on the wheel into delight in order to make your customer happy.
We want to have no friction in our buyer's process. Brian quotes ''your customer experience has to be 10x lighter". The goal is to scale up service, marketing and sales processes. This new growth model is for sales, marketing and customers to have very little friction and we need to continually delight all of our customers at all times. The lower the friction in our model, the higher the return on investment will be.
Dharmesh Shah, the other co-founder to speak from Hubspot talked about how we are living in a new world, and we need to change in order to grow. Wow…such powerful words! He said, culture is critical and it defines the destiny in a company. He believes in SFTC which is Solving For The Customer. Our goal is to help them succeed and we don't want to just satisfy them - we want to delight them. This is part of the cultural code deck (which he has written about in a book) because this puts the customer first. Remember, the customer experience starts and never ends, just like with the Flywheel that Brian talked about.. What a fabulous great talk by Brian Halligan and Dharmesh Shah.
Another keynote speaker was Shonda Rhimes. If by chance you do not know who Shonda Rhimes is, she has created six award winning sitcoms on CBS. She talked about when she walks into a negotiation, she does NOT surrender, for example her recent experience with Netflix. She is extremely busy with streaming, Netflix and Shondaland. It is too early for her to mention anything about Shondaland, which by the way An American Television production company that she founded. As Shonda says 'it's where the bad asses live'. Shonda feels in the working world we have nothing to lose, and must always speak up. Shonda spoke about how important time management is with work and family. I also like how she said losing weight sucks, and she recently lost 100 pounds in one year.
I really like Alex Rodriguez's speech about his obsessing with learning. Did you ever think you would hear a former baseball champion speak like that? He likes to find people who are respectful and successful to be around. He had his share of strikeouts and failures and has grown from all of that. Alex likes to be on the Shark Tank and find people who are poor, hungry and driven - his version of a "PhD". He summed up what Inbound18 means to him, by saying it means to educate and inspire yourself and surround yourself with good people. What powerful words those are to live our everyday lives by.