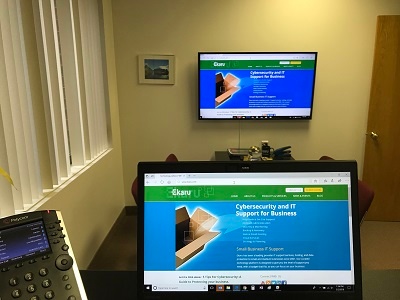 I love technology! It's amazing that I can project the screen of my laptop across the room to a large TV ... through the air! No cables or connections needed. Wow!
I also get really frustrated with technology. For no known reason, my wireless connection was dropping all the time during meetings. I checked my power settings, the display settings, and tested whether or not it mattered if I was plugged into power or not. I tried using the native "smart TV" connection but my image was getting stretched. I was getting very frustrated and obsessed with making it work.
Finally after testing so many different settings, I just bought a new display adapter. I paid about $50 for a new Microsoft Display Adapter, and I've had it powered on all day to test it. Not a single drop out!
Working in technology we face challenges every day. One of the things don't allow in our office is the phrase "it should work".
When you consider the technology "under the hood" that lets me magically connect to the screen, it really is amazing. The challenge every day is to make smart choices to maximize our technology success and success for our clients. When do you keep troubleshooting, and when do you take a fresh approach.
Spending about $50 on a new display adapter was the smart fast choice. I still don't know why the other one didn't work well consistently, but I can appreciate that spending a relatively small amount of money to fix the problem was the smart thing to do. I like the Microsoft version becuase it's so quick to launch from Windows 10, and it adjusts the screen aspect ratio nicely with no adjustments.
As I type this I'm watching the big screen across the room. Magic!