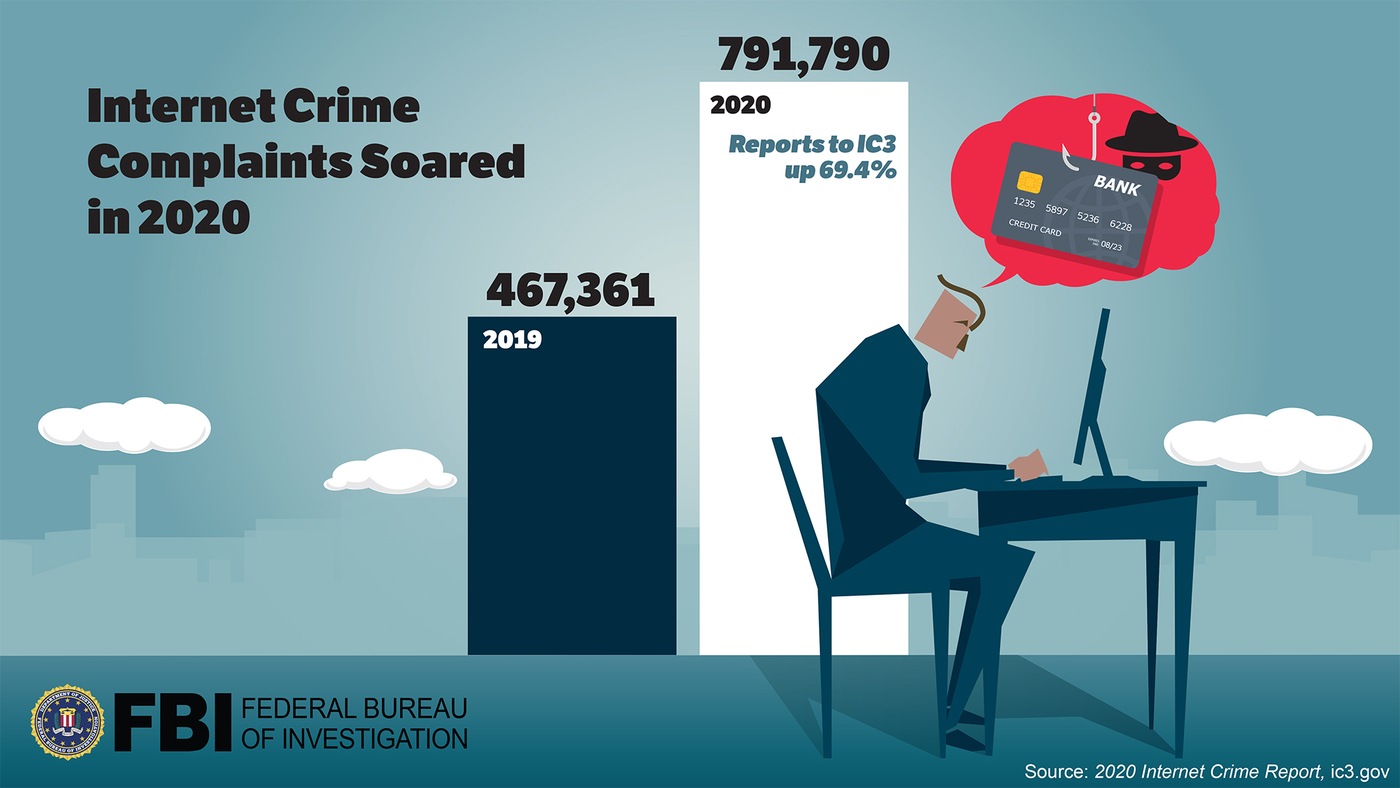 The FBI's Internet Crime Complaint Center (IC3) has just released its annual report. Over 700,000 complaints were filed - an increase of more than 300,000 from the previous year - and reported losses exceeded $4.2B.
The IC3 provides the public a reliable and convenient way to report suspected Internet crime to the FBI. The FBI reminds the public to report suspected criminal Internet activity to the IC3 at www.ic3.gov. By reporting crime, victims not only alert law enforcement, but also aid in the overall fight against cyber crime.
The big news from 2020 was the surge in Internet crime related to the COVID-19 pandemic.
"In 2020, while the American public was focused on protecting our families from a global pandemic and helping others in need, cyber criminals took advantage of an opportunity to profit from our dependence on technology to go on an Internet crime spree".
The IC3 has four core functions:
Collection - The IC3 is the central point for Intern crime victims to report and alert the appropriate agencies to suspected criminal Internet activity.
Analysis - The IC3 reviews and analyzes data submitted through its website to identify emerging threats and new trends.

Public Awareness

- Public service announcements, industry alerts, and other publications outlining specific scams are posted to the www.ic3.gov website. More awareness makes it more difficult for the crimes to work.
Referrals - The IC3 aggregates related complaints to build referrals, which are forward to local, stat, federal, and international law enforcement agencies for potential investigation.
Criminals took the opportunity in 2020 to exploit the COVID-19 pandemic with scams related to the Coronavirus Aid, Relief, and Economic Security Act (CARES Act), with grant fraud, loan fraud, and phishing for Personally Identifiable Information (PPP) as the top vectors. People are encouraged to protect against scammers but using extra caution in online communications.
Business Email Compromise (BEC) and Phishing were the top attack methods in 2020 and the report shows victims over the age of 60 were the hardest hit, both in terms of numbers and the overall monetary damage. Ransomware and Tech Support Fraud are also highlighted in the report.
A full copy of the 30 page 2020 Internet Crime Report can be downloaded at the IC3 Website.
The more you know about security, the more likely you'll be able to protect yourself against the latest scams. Technology solutions like patching, antivirus, firewalls and more can only do so much. Think before you click!