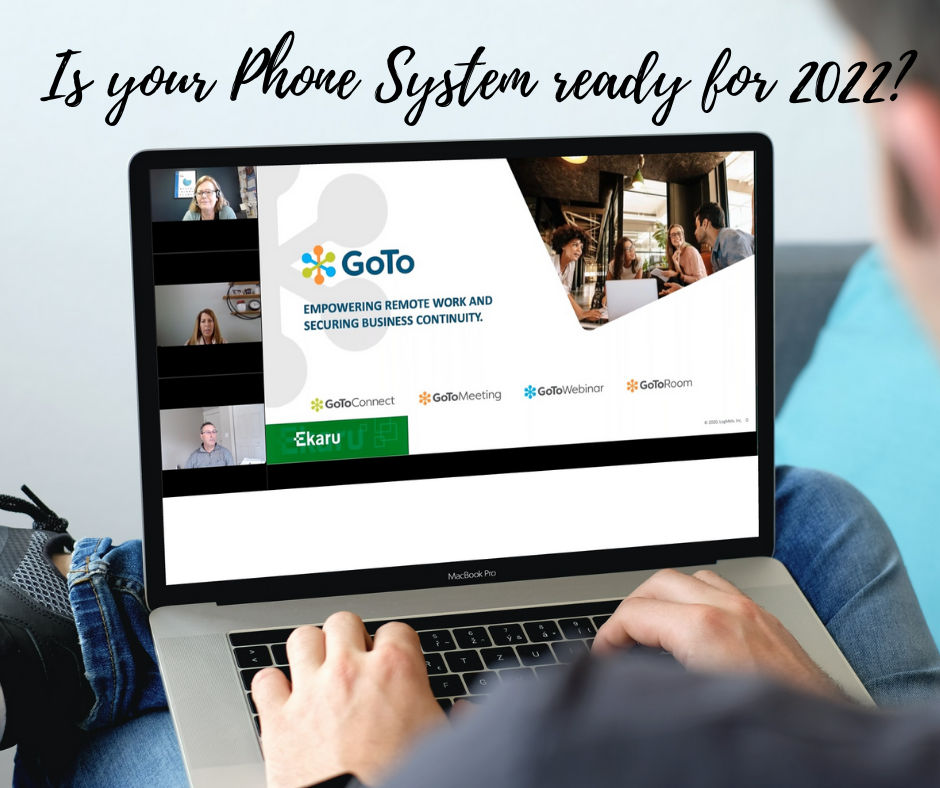 January is a great time to set some technology goals for your local business. So much technology is available to small businesses these days for digital enablement - work from anywhere, hybrid work, video, integration with Microsoft Teams... Things that only large enterprises could afford in the past are now available on a small business budget! If you haven't updated your tech in a while reach out to learn about what's new!
Last week we were joined by Frank Correia from our partner LogMeIn to talk about what's new in phone technology as part of our community technology update series. The pandemic has changed a lot of things for businesses, and it's been a time to get creative in how to get work done. At Ekaru, we talk to a lot of local businesses in the greater Boston area and one of the things we see quite often is that smaller organizations might be held back with older technology. One of our missions at Ekaru is to help local businesses get more from the technology they already have and to learn about what's new.
If you haven't upgraded your phone system in a while, you'll be pleasantly surprised about what's available!
Today it's an anywhere, any-way, any-device world! When the pandemic hit in 2020, so many businesses needed to react quickly to enable remote work. Business continuity inside and outside of the office, and the ability to communicate with an entire team without having everyone physically in one place was a challenge. 82% of SMBs found it difficult to manage remote users, and the security risks were extreme. Is it YOUR employee accessing your systems? Things get complicated when we step out of the traditional workplace.
Technology help is on the way! In the early days of the pandemic, we received a help call (typical of many) from a local small business in Littleton, MA where one employee had to drive to the office each day, masked up, to get physical access to their old phone system to make changes to out of office messages, and retrieve voicemail. Things needed to change!
GoTo has been working with businesses with tens of thousands of users, and as small as one user. Reliability is 99.998% uptime with 24x7 support. Years ago when we upgraded our own phone system from our old Cisco system, we evaluated many options, and have been working with GoTo (then known as Jive) for many years.
Frank walked through a recent implementation with Dartmouth College with 5,000 employees to connect all the users, including staff and student populations, for teaching, learning, and operations from anywhere. This is what we mean at Ekaru when we talk about "enterprise" solutions for small business - small businesses can get the SAME technology!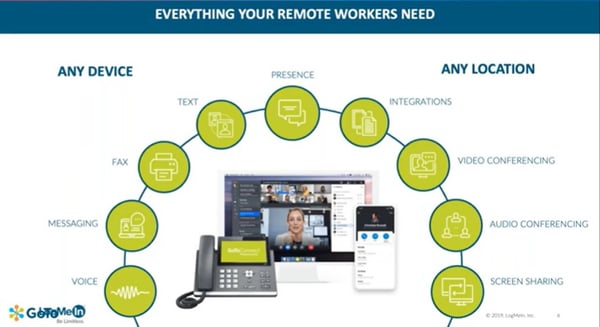 Think beyond phones! With the platform you can work with any device at any location: Voice, messaging, fax, text, integrations, video conferencing, audio conferencing, and screen sharing. Everything you need from communications on one platform. Users can work on a traditional handset phone, or use their laptop or smartphone.
Users are empowered to get access to their voicemail, and set things like "find me, follow me" to forward phone calls with easy to use. The mobile app is available free of charge to enable calls, meetings, text and chat. The caller ID is your BUSINESS caller ID, so you can make calls without needing to use your personal phone number. Users also get access to video conferencing at no additional charge. We recommend to start simple, but continue to explore features and increase your capabilities.

With "Call Flip" you can easily switch between your handset and smartphone or laptop - and you can automatically transfer the call without any disruption. On a long call and need to hit the road for your next appointment? Just "flip" the call to your mobile device and go!
The Dial Plan Editor is also a great feature. When we set up a solution for local business, we typically work directly with the business to set up the initial plan based on workflow. But the visual interface is simple enough that customers can make changes on their own. Big snow storm on the way and you need to change your hours or greeting message? The change is easy. If you have an old system, and you need to jump through crazy hoops to make changes, get on a modern platform!
All inclusive pricing includes call recording, custom schedules, fax to email, hot desking (employees can share a desk and log in to their own settings on the phone), Group Texts, Voicemail to email, Paging (popular in schools, manufacturing, auto dealers, etc) Call Park, "Find me Follow me", integrations to SalesForce, ZOHO, Microsoft TEAMS, Redtail, ZenDesk, and international dialing to 52 countries free of charge! You also get unlimited auto attendants, and call queues.
You can listen to the full recording of our training session here:
Five years ago when we made the switch we were attracted to the platform for its simplicity, reliability, and affordability! Still true today, and capabilities keep expanding.
At Ekaru, we're all about enabling small businesses with technology. If you haven't refreshed your technology in a long time, give us a call to learn more about what's new! Call us at 978-692-4200 to set up a demo! - Onboarding is easy. If you're already working with us on the GoTo Platform, set up a demo to learn about features you haven't tapped into yet.