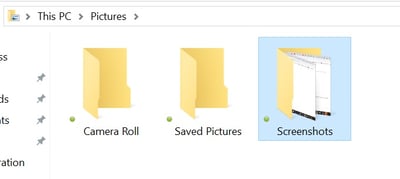 A screenshot is an image of whatever's on your screen. Simply pressing the PrtSc button will save the image of your screen to your clipboard. If you then go into a document or email, you can hit "paste", or Ctrl+V to insert the image. Pretty simple! This is a great short cut when you need to show someone something on your screen or perhaps provide instructions to someone.
Here's a few additional twists on this simple tool:
Save Your Screenshot as a File
Hit the "Windows button" plus PrtSc and you can save the image file to your pictures folder. The Windows button is near the lower left hand corner of your keyboard - it looks like a square of four squares. This is a great time saver if you need to collect a lot of screen shots and want to save them for later use.
Take a Screenshot of Part of Your Screen
If you just want to take a screen shot of part of your screen, you can do so by selecting the Windows Key plus the Shift Key plus "s" and this will gray out your screen and allow you to select the region you want to take a screenshot of by dragging your cursor.
Take a Screenshot of Just One Window
If you have a lot of open windows and just want a screenshot of the active window, hit the "Alt" key plus PrtSc.
Often when we're working with users to troubleshoot a problem we'll ask for a screenshot to see what the error message is. These shortcuts are also helpful whenever you're creating a document such as instruction steps from your computer.