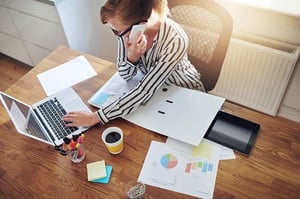 Many people have been asking us about remote access options to work from home with the evolving coronavirus headlines in the news.
Being able to do work from home or other location may be as simple as taking a work laptop home, or using a home PC. You should be able to access work emails either from a web browser, a smart phone or using your Outlook email application, and that may be all you require. Also, perhaps other needed information is available to you from a web browser (banking, payroll, or other vital work information).
However, if you need to access information which is on a system in your office, such as perhaps your Quickbooks financial data, line of business applications, or shared files, then you need to use remote access technologies. There are two basic alternative ways to be able to access the needed information.
Accessing a PC located in your office

Everyone with a support plan with us has a remote access license - LogMeIn Professional - already included in your support subscription with us. If you're not already using this, you can call our office (978-692-4200) or email us at support@ekaru.com and one of the engineers will help set it up for you. It's generally a very quick set up, and it may take a bit of training to get used to it. We recommend that each business establish an

acceptable use policy

to set minimum standards such as antivirus protection for home systems.
Accessing information in your office when you take your work laptop home If you don't have a work system to connect to and you need access to the office network (you may or may not depending on what applications you use in the cloud), we'll work with you to set up what's known as a VPN connection (Virtual Private Network). Depending on what level of firewall you have, you will have at least one connection already available to use. The VPN licenses are for

simultaneous

use, so multiple people can use a license, but not at the same time. It can take around 24 hours for new license keys to be issued, so if you anticipate needing to accommodate multiple users working remotely, this will require some planning.
Remote Offi

ce Phone Usage:

For clients on our Jive phone system, you can make

and receive phone calls via an app on your computer or smart phone, or take your handset home. Because its a cloud system, the phone works from anywhere, and you can make calls from home (or anywhere) with your

office caller ID

.
Meeting Collaboration Tools (Video and Screen Sharing)

The Jive phone system includes a free GoToMeeting license which enables video calls and screen sharing with the Jive system. This is already bundled for newer users, and requires activation for legacy users. Tony Marciello is the point person on our team for helping with that.
If you don't have the Jive phone system, but just want GoToMeeting, we can help expedite set up through our partnership with LogMeIn. Reply to this email if that would be useful for you. Municipalities, non-profits, and medical institutions may qualify for special 90 day free licenses.
If you have any questions, please let us know. We're here to help! 978-692-4200.