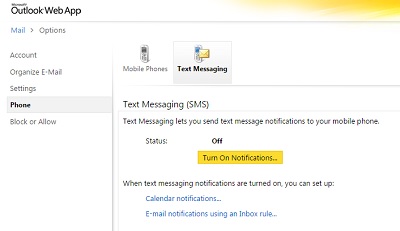 Have you ever been waiting for an important email and stuck filtering through your entire cluttered Inbox to check for it repeatedly until it arrives? With Ekaru cloud-based Exchange mail, you can set up a Text Message notification so you'll see when the important email arrives without needing to constantly check your Inbox.
To access your settings, log into Webmail, and select "Options" on the upper right hand side of your home page, and then select "See All Options". On the left navigation, select "Phone" and then select the "Text Messaging" Button.
From there, you can "Turn on Notifications". You'll be asked to enter your information for your carrier and your phone number, and will then need to authenticate. After notifications are turned on, you'll be able to set up "rules".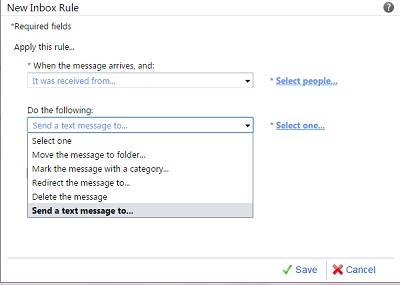 To set up notification "rules", click on the link that says "E-Mail notifications using an Inbox Rule". There are many different types of rules you can set up, but in this case, you'll select "It was received from...", and then select the email address you're interested in.
You'll then be able to apply the rule "Send a text message to..."
If you are waiting for an important email, or perhaps receive some critical business notifications during the day, this is a way to help organize and cut through the clutter of your Inbox.