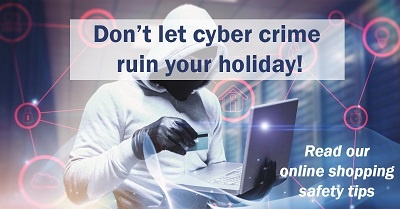 Today is Cyber Monday, and that means that billions of transactions will occur on line. That also means, as TransUnion puts it, "what's convenient for shoppers can also be a huge opportunity for savvy identity thieves, who steal information provided on Internet transactions for their own monetary gain."
Here are a few quick tips to help keep you safe:
Don't click on links from retailer emails. Hackers like to prey on busy shoppers and create "phishing" emails that look like they're from brands you trust. Go straight to the web site through a browser instead.
Don't shop on public WIFI. Sophisticated hackers can intercept traffic on these networks. Use your data plan instead.
Don't use a debit card for online shopping. Debit cards are tied directly to your checking account. Credit cards have better financial protections.
Don't save your credit card on shopping sites. If they store it, it may be hacked. Better to re-enter the information next time you shop. Use a separate card for online and offline shopping.
Keep your security updates up to date. You can never be 100% secure on line, but keeping all your security updates current can greatly decrease your risk.
Check your statements. Often small purchases are made to test a card before bigger theft occurs. Check your statement frequently and keep track of every purchase.
Change your passwords. Too many people use the same password or a slight variation for multiple accounts. This makes it way too easy for cybercriminals to get access to your accounts.
Shop secure sites. Look for the "s" in Https:// before the site name. Hackers still have ways to get through, but this helps.
Cybercrime is at its highest during the holiday season. Find out how we can help protect your business and your personal identities during an identity theft blizzard. Call us to schedule a free consultation today!