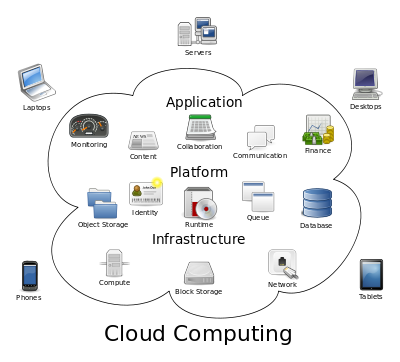 It's the latest buzz word in technology - the "cloud". Many of our clients are asking about the cloud, so we want to take some of the mystery out of it. The definition from Wikipedia sums is up simply: "Cloud computing is the use of computing resources (hardware and software) that are delivered as a service over a network (typically the Internet)". The name comes from the cloud diagram that is typically used in network diagrams to symbolize the Internet.
The underlying business principle is that you can decrease operating costs by outsourcing applications, hardware and support to the cloud provider. A very popular book that came out a few years ago, The Big Switch, by Nicholas Carr presents the analogy that over 100 years ago, businesses used to generate their own power locally, and then moved to the newly built electric grid, which turned power into a utility. The analogy follows that computing is now turning into a commodity resource and it isn't cost effective to run everything locally.
The concept sounds new and radical, but if you're worried that your behind on this new trend, rest assured you're probably already operating in the cloud but you just don't know it. If you used AOL email in the 90s, you were already in the cloud!
These days, we typically recommend a hybrid approach to computing. We currently manage support for our clients through the cloud with our managed services. We still go on site for installations, and we don't want to lose the personal contact with our users, but much of the support and monitoring we do is through the cloud. Our managed systems report back to us if, for example, antivirus protection isn't up to date and we can remediate most support issues remotely.
Are you running an on-line backup? Then you're in the cloud too. We strongly advise automated, encrypted, backup "to the cloud" to make sure your files are safe. You may think of it as "on-line backup", but you can also talk about it as "cloud backup". If you're still running a tape backup, it's time to change!
If you don't own your own e-mail server, then you're using cloud based email. Many of the industry-specific applications we see our clients working with are also "in the cloud". During the "dot-com" days, it was called the "ASP" model - Application Service Provider. Salesforce.com is one of the major applications used by many businesses for CRM - Customer Relationship Management. Applications "in the cloud" provide much higher capabilities over what could be afforded on a stand-alone server, but when the Internet is down, so are your applications.
The things to think through in your cloud strategy are cost, performance, and reliability. Many small businesses maintain local servers for the performance gains, in parallel to using cloud based applications. If you share files locally, then you always have access to them. If you rely 100% on the cloud, you'll have a problem when the connection speed is slow, or down. Ken Olsen, founder of Digital Equipment Corporation (DEC), famously called PCs "snake oil" years back, and perhaps he was just thinking too far ahead. We don't think it's time to move your PC into the cloud, but we've almost come full circle back to the days of mainframes and terminals. Not there yet, though, and with the low cost of computing, I'm not ready to give up my local apps.