Did you know that you can delay or schedule sending an email? Let's say you have an email ready to go, but for some reason you'd rather send it at a later time. Maybe you know the recipient is away and you'd rather not have your email sitting in a giant queue when they return.
Here's how:
In the message, go to the Options tab and select Delay Delivery.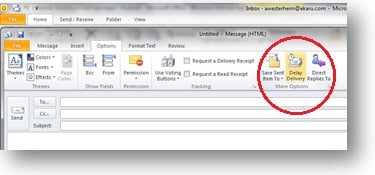 Under Delivery options, select the Do not deliver before check box, and then click the delivery date and time that you want.
After you click Send, the message remains in the Outbox folder until the delivery time.
VERY IMPORTANT: Note that if you use a "POP" or "IMAP" email account (which is the most common configuration for small businesses), then you need to have your computer on and Outlook running during the scheduled delivery time.