The latest security vulnerability is all over the news. Microsoft is working on a fix to address a flaw that could potentially allow hackers to gain remote access to systems. This flaw affects all versions of Intenet Explorer (about 55% of the browser market) and a patch is expected soon. If you're still running Windows XP, support has ended and there will not be a security patch.
In the meanwhile, here's what you can do. The first option is to use an alternate browser for a while, such as Firefox or Chrome. If you're doing general surfing, this is the best course of action for now.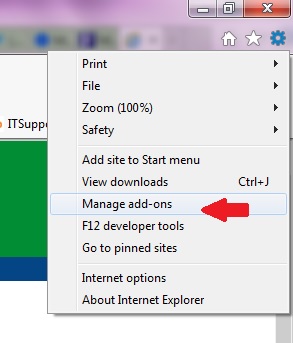 If you need to run Internet Explorer (many applications rely on it), it is recommended that you disable Adobe Flash. The security flaw requires Adobe Flash, so if its disabled, you'll be ok with this threat.
Here is how to disable Adobe Flash. In the upper right hand corner of Internet Explorer, select the "gear" icon, and then select "Manage add-ons" from the pull-down menu. Selecting this will enable you to pick from a list of all the add-ons to your browser and then disable Adobe Flash.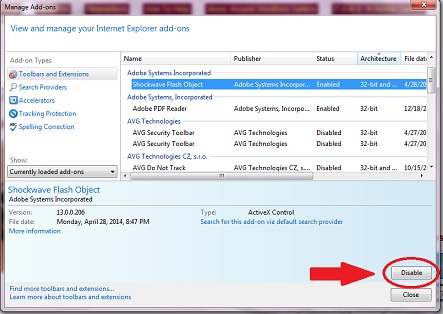 Select Adobe Flash from the list of "Toolbars and Extentions", and then press the "Disable" button.
Note that when Flash is disabled, some web features won't work, so this is a temporary work around.
One of the questions we frequently hear is "why are Microsoft products so insecure"? The technology underlying all the daily things you do on the web is very complex, and there will constantly be vulnerabilities. None of us are willing to give up the web, but we will need to live with some risk. Hackers will go where the market share is, and Microsoft dominates the market. Microsoft also diligently issues patches (which are free) to update products as new vulnerabilities are discovered.
Keep in mind that if you're still running Windows XP, there are no more security patches for this "retired" operating system. The next few months will be interesting as hackers may try to exploit this since about 25% of computers world wide are still running XP. Stay tuned...