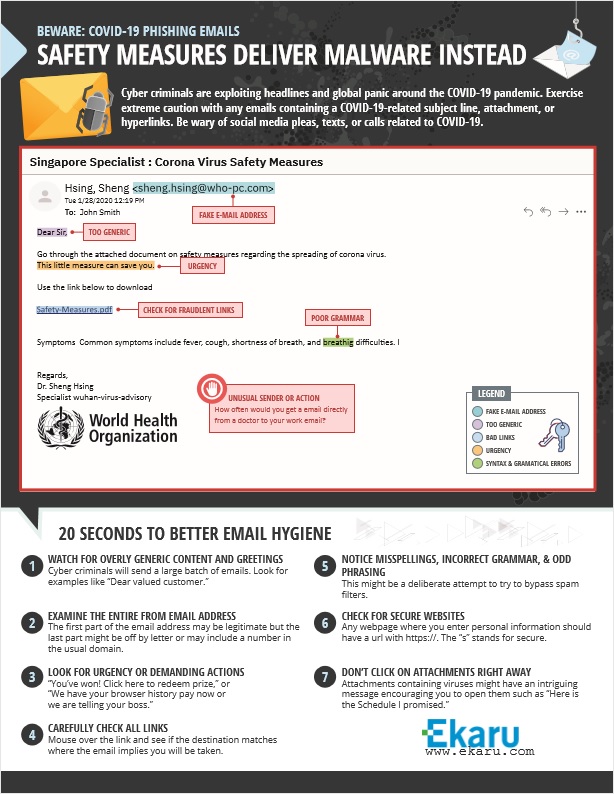 Cyber criminals are working overtime to take advantage of the disruption and confusion caused by the pandemic. The FBI reports a four fold increase in cyber threats recently and its more important than ever to stay alert, and talk to your team about cybersecurity. The most common attack vector these days is eMail, and an unknowing employee may click on the wrong link thinking they're getting important safety information. Think before you click!
Check out the infographic for more information on what to look out for, and please share with your team.
20 Seconds to better email hygiene:
Watch for overly generic content and greetings - Cyber criminals will send a large batch of emails. Look for examples like "Dear valued customer."
Examine the entire "from" address - The first part of the email address may be legitimate but the last part might be off by letter or may include a number in the usual domain.
Look for urgency or demanding actions - "You've won! Click here to redeem prize," or "We have your browser history pay now or we are telling your boss."
Carefully check all links - Mouse over the link and see if the destination matches where the email implies you will be taken. (But keep in mind some advanced hackers have ways even to hide the true destinations!)
Notice misspellings, incorrect grammar, and odd phrasing - This might be a deliberate attempt to try to bypass spam filters.
Check for secure websites - Any webpage where you enter personal information should have a url with https://. The "s" stands for secure. (But keep in mind some advanced hackers can hide behind encrypted sites!)
Don't click on attachments right away - Attachments containing viruses might have an intriguing message encouraging you to open them such as "Here is the Schedule I promised."
It takes just ONE employee to click on a bad email to cause a lot of potential harm to your business. Ask us about affordable ongoing cybersecurity training, testing, and simulated phishing tests to help keep your organization safe!