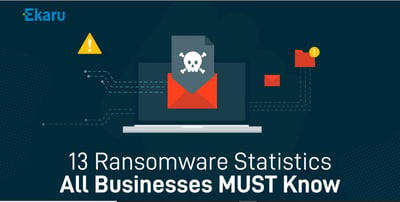 Big businesses make the headlines but small businesses are NOT immune to Cyber Attacks!
Industry leader Datto surveyed over 2400 IT professionals who deal with ransomware and other cyber threats every day, and the results are something every SMB needs to be aware of.
From 2016 to 2018 there has been a 79% increase in ransomware attacks. 35% of IT pros reported multiple attacks for the same SMB in the same day. Only 1 in 4 attacks are reported, so the news is not making it to the general population. The cloud and Apple products are NOT immune. The average cost of the downtime associated with an attack is $46,800.
One of our missions at Ekaru is to help SMBs create a technology roadmap and we recommend that you download the Ransomware Report to get started. We highly recommend sharing these statistics with your team to raise awareness in your organization. Ongoing training is one of the key components to help keep your business safe. Also, please ask about new technologies you can put in place to help safeguard your business. Antivirus and firewalls are no longer enough to protect against advanced threats, and if you haven't completed a security risk assessment in the past year, now is the time!
Keep your data safe!