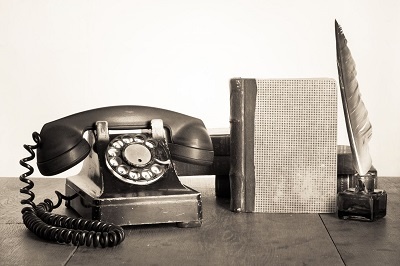 It's a New Year - Are you tired of your old phones?
If you haven't checked out phone technology recently, you'll be amazed with what's available! The lines between computer technology and phone technology have blurred. Instead of paying for multiple phone lines, you can run all your phones over your Internet connection (Voice over IP or "VoIP"), providing a lot more functionality at less cost. You also don't need a lot of complicated phone network equipment on site - just handsets connected over your regular office Internet connection.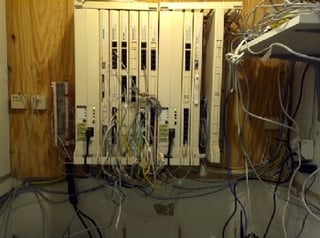 Does this look familiar? This is an old PBX system and if you see a lot of wires like this in your network closet, its time for a change. A PBX is a "Private Branch Exchange" which is the technology that enables incoming calls to be switched between all your handsets and extensions. Years ago, your office would have multiple phone lines coming into the PBX, and then multiple phone lines going out to each handset in your office... a lot of wiring!
With VoIP, you may still have a PBX on site, but it will look more like a modern switch or router with network cables coming out of it. You also have the option for added flexibility now to have your PBX "in the cloud". There's a lot of hype about the cloud, but a PBX in the cloud is now mainstream, and a great cost-effective option for Small and Medium Businesses to have a low maintenance solution that also enables connecting remote users.
Custom Schedules: Configure time-based call routing for open/closed business hours, holidays, and special events.
Visual Dial Plan Editor: Map out call flows visually and make changes on the fly using the drag-and-drop interface. Easily configure elements like wait times, auto attendants, voicemail boxes, sound clips, and schedules.
Detailed Call Analytics: Create opportunities for more efficient use of resources, better training, and proper scheduling by using time-of-day reports, geography-based heat maps, and downloadable call detail logs.
Mobile Operation: Use the mobile app to use your cell phone as an extension of your office handset. You can take your office wherever you go. Need to take office phone calls on a snow day? No problem.
Remote Office: Remote workers can plug in a handset anywhere with an Internet Connection. It's easy to connect multiple office locations even if there's just one user.
We've put together a training video on VoIP and some of the features in the system we recommend:
Want to schedule a demo? Call us at 978-692-4200 or send us an email.