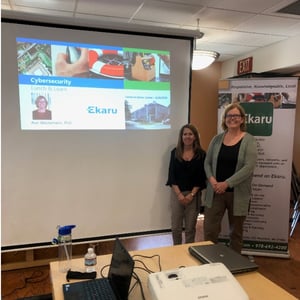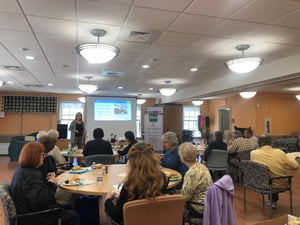 Last week, Ekaru hosted a Cybersecurity Awareness Training session at the Cameron Senior Center in Westford, MA. It's part of our mission to raise cybersecurity awareness for EVERYONE.
Everyone needs to know how to stay protected in today's environment, and it's important to know what protections need to be in place for the people who you work with who are trusted with protecting your information.
The presentation covered the current state of the cybersecurity landscape, and offered some practical tips to spot the most common scams.
The world has changed a lot over the past years, and so much of our lives are conducted on line through banking, health records, social media, and more. By now, everyone knows the Cybersecurity Basics:
Protect your computer with Antivirus Software
Keep your security patches up to date
Use STRONG passwords
Backup your data
The thing is, the bad actors know this too and they've developed some new tricks using social engineering to trick you into divulging your personal information or bypassing your security. Cyber-crime is now bigger than all other forms of organized crime, and its important to know how you can protect yourself.
The rise of cryptocurrency has allowed criminals to collect money anonymously, and this has led to an explosive growth in cyber-crime. With basic protections in place by most users, email has become one of the most common attack vectors.
Ransomware, which is a type of malicious software designed to block access to a computer until a sum of money is paid is one of the most damaging threats. You may think that your data wouldn't be worth much to a criminal, but that's not what matters. How much is your data worth to you? Typically, Ransomware is spread through email, so watch carefully for messages that contain links for documents, and keep in mind that the bad actors have many tricky tools to use to trick you into opening that message.
Phishing is a type of online scam where criminals send an email that appears to be from a legitimate company and ask you to provide sensitive information or payment.
There are three common types of phishing scams: Brand impersonation, Business eMail Compromise (BEC) Scam, and Blackmail
In a Brand Impersonation email, you may get a fake message from Microsoft to update your password, or a fake email regarding a FedEx Delivery. Amazon, LinkedIn, UPS, and Bank of America are commonly impersonated brands.
In a Business eMail Compromise Scam, you may get an email that looks like its from a trusted source like boss, attorney, or friend, but it's not! Beware that many people have lost money in fake wire transfer scams through email. If you're buying or selling a home watch out for any last-minute bank changes. People have lost their homes over this!
Losses due to BEC (Business Email Compromise) scams have doubled in 2018, compared to 2017 figures, and have reached a whopping $1.3 Billion, according to the yearly FBI internet crime report.
Blackmail emails will contain threatening language and ask for a payment to prevent further harm. They can be very detailed and scary, but they are just mass-marketed threats.
Things to watch for: Watch out for a sense of urgency in the email, names that may be slightly off, and other threats. Be extra careful opening attachments or clicking on links.
Trust your gut, and call the company directly to speak to someone who can verify the request. Don't reply to the email and don't call any numbers listed in the email.
Stay safe on line and Think Before you Click!