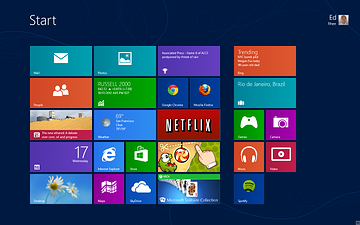 If you're a superuser on Windows 7, you may feel a bit lost on Windows 8. Bob has enthusiastically been using Windows 8 for a few weeks now, and he recommends getting re-familiarized with the good 'ol keyboard shortcuts. These are the standard shortcuts that work across all Microsoft Windows platforms, such as Ctrl+P to print, etc.
The new interface for Windows 8 marks a major change in how Windows has looked for over the past ten years. You can arrange your icons any way you want, and rest-assured, everything is still there. You may be confused at first when you look for "Documents", but don't worry, all your documents are still there.
Using keyboard shortcuts can help you get around until you get used to how to do things. There are 23 new keyboard shortcuts for Windows 8. The new word is "charms". The old conventional start menu is gone, replaced by the new Charm Bar - this is the universal toolbar in Windows 8. All the standard Windows shortcuts also work. For the entire list of Windows shortcuts, visit the Microsoft web site. A couple of useful shortcuts:
Windows logo key‌ +start typing: search your PC

Windows logo key‌ +C: open the charms

Ctrl+plus (+) or Ctrl+minus (-): zoom in and out

Esc: Stop or exit the current task

ALT+F4: Close the active item
Ctrl+C, Ctrl+V: Copy and Paste - always useful!
The people most familiar with Windows 7 may be the most lost, and beginners will probably be most comfortable with the graphical interface, but don't slow down! Start exploring, and tell us what you think!