Technology Advisor e-Newsletter
The Ekaru Technology Advisor monthly Newsletter provides technology tips and strategies to help you grow your business. We've been writing our own newsletter for 15 years, handpicking the news and information that's important to small business.
Sign up to get more from the technology you have and learn about what's new:
Or sign up by text: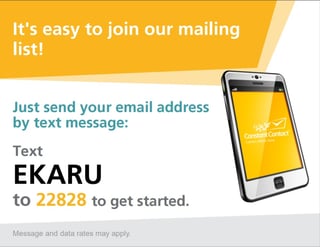 Read past issues of the eNewsletter in our Archives:
News & Webinars:
Ekaru News & Events - Catch up on past news and Webinars.