About Us
Mission The Ekaru Team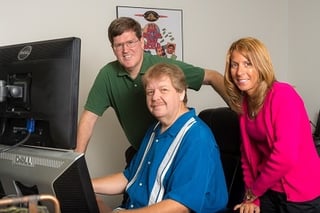 Our mission is to make your IT system a strategic asset and let you to focus on your business. We have the technical knowledge to keep your business systems running smoothly and the business technology perspective to help you plan your IT growth as your business expands. Because we deliver such a deep and broad skill set, you can stop worrying about technology and focus on your core business.
Why Choose Ekaru?
Customer Commitment - Knowledgeable, responsive, reliabiable, proactive, personable, and easy to work with.
Experience - We have managed IT support for hundreds of businesses in just about every industry. Our engineers all have senior level technical experience, and we work as a team, so you get access to everyone's expertise.
Technology Passion - We're passionate about technology. In our free time we love to read about new technology and test new solutions, so you have access to the latest information.
Single Source Solution - We can handle everything from installing a new printer, to helping with technology strategy and everything in between.
Guarantee - We will do what it takes to make your technology work! When you need technology help we'll be there for you.
The Ekaru Team
Ann Westerheim, PhD. Founder and President. Biography.

Bob Mauceri. Senior Technology Advisor. Biography.

Frits Riep. Senior Technology Advisor. Biography.

Jim Buccieri. Senior Techology Advisor. Biography.
Nancy Amato - Client Services and Marketing
Karen Tine. Finance
Peter Summers. Technology Advisor

Brian Brackett. Help Desk Team Leader.
Biography

Tony Marciello

. Technology Service Coordinator

Leonid Freeman. Technology Advisor