Password Manager
Your business is only as secure as how you store and access passwords. In a survey of 130,000 business owners, users were asked: How do you manage passwords?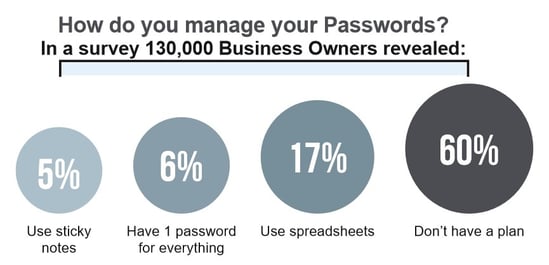 With Ekaru PassPortal, you'll have a site license that gives employees a secure password storage area and access solution to manage their corporate passwords. It also delivers the ability to securely share and synchronize passwords between executives employees, contractors, and clients, eliminating anyone from being blocked from the most up to date password.
Within PassPortal, there can be an unlimited number of users and storage for an unlimited number of passwords. The Admin can then create custom permissions for each user. That way each user no longer has access to every password in the database and you can block any user from particular credentials. Every interaction inside the site is recorded. Therefore audit logs and reporting are all easily accessible and can be run to see how old passwords are, who has had access to them, etc. You can even go back and find what password were previously used if needed. If the site user is ever drawn into any compliance audit they can easily provide the information needed.
Site users can also use the site to collaborate internally with each other. You can create security groups or buckets for "administration", "accounting", "management" or however works best for your business. The person with admin access to the Site can easily add/remove users to each group as necessary. The admin can also give each end user specific access – read only or read write. This access can also be changed within the site at any time.