"Do-it-Yourself" Small Business Technology Recommendations
DataDepositBox® - Online Data Backup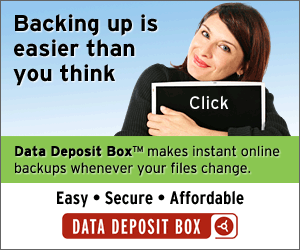 Constant Contact® Do-It-Yourself Email Marketing®
Constant Contact - Do it yourself e-mail marketing
Build your prospect list and customer loyalty
Use email newsletters, promotions and announcements to keep your site visitors, prospects and customers coming back! Constant Contact makes email marketing easy and affordable! Simply add your unique message to one of over 100 professional B2B and B2C templates and Constant Contact does the rest:
Includes more than 100 customizable templates (updated regularly)
Builds your email list automatically, or easily imports your own email addresses
Automatically creates HTML and text versions
Delivers your email in the right format every time
Hosts and manages your list
Tracks and reports your results
Use Constant Contact FREE for 60 days with your list of up to 100 addresses. Send as many campaigns as you like.
No obligation. No risk.